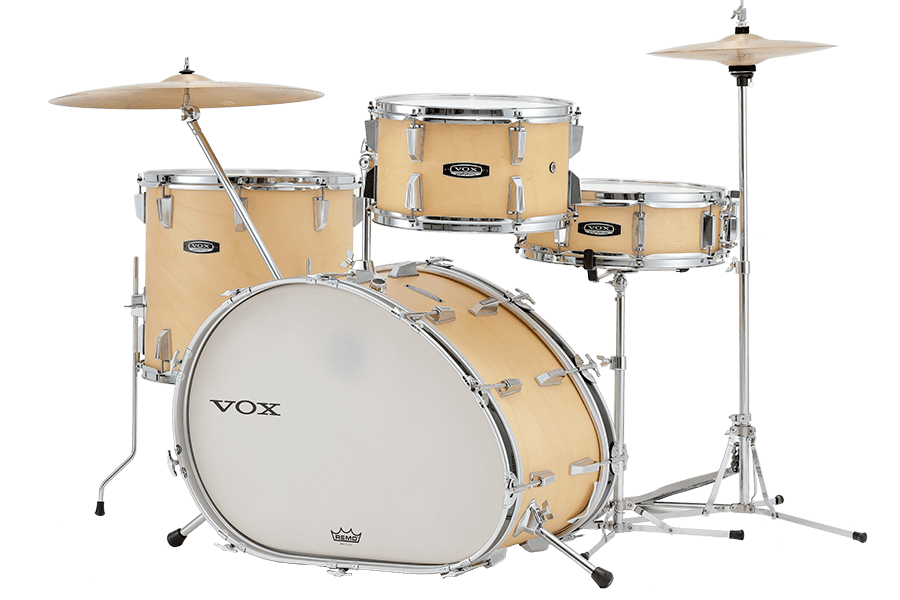 Product Description
Unforgettable vintage looks, modern sounds
The VOX Telstar 2020 is a modern reimagining of an iconic VOX drum set from the 60s. One of the most interesting drum kits ever produced, it is now brought back to life with modern technology and produced under the supervision of SAKAE OSAKA HERITAGE.
Unforgettable looks
The Telstar Maple's original and impactful design makes it a one of a kind drum set. With its uniquely shaped kick drum and its classic maple finish, the VOX Telstar Maple is visually arresting and will the attention of everyone in the audience! Every part of the VOX Telstar Maple drum kit has been conceived and built referencing the high standards of the 60's, and perfectly recreating perfectly the unique vintage looks to help you stand out!
Not only that, the simplicity of the VOX Telstar Maple makes this an easy-to-set-up and ready-to-play drum kit with surprising versatility.
The original VOX drum sets from the 60s have been known to sell for thousands of dollars on the second-hand market, such is their unique appeal. Now a whole new generation of drummers can appreciate what makes the VOX Telstar Maple so special.
Sound
The Telstar not only looks amazing, it sounds great too! Made under the supervision and to the same high quality standards of the SAKAE OSAKA HERITAGE team, the Telstar 2020 is a carefully crafted drum kit with a rich sonic power.
Its characteristic oval head was conceived following a revolutionary concept: What if you could have two different sized kick drums in one? The kick drum's character, pitch and harmonics will vary depending on where it's hit, giving you more possibilities and flexibility as a player!
Its heads are made specially by REMO USA, legendary amongst drum head producers, assuring top-quality sound, quality, endurance, and availability.
Ready to go
The set includes all the necessary drum stands, kick-drum pedal and hi-Hat stand, so there is no need to purchase any additional extra hardware, get ready to rock and roll! (cymbals and throne not included)
Specifications
BASS DRUM
Original Size (18″+12″ x 13″), 10/20 Lug
Whit coated head specially made by REMO USA (Top/Bottom)
Tom or cymbal can be mounted
---
TOM
13: x 7.5″, 6/12 Lug
White coated head (Top/Bottom
---
SNARE
14″ x 5″, 8 Lug
White coated head (Top), Clear head (Bottom)
---
FLOOR TOM
16″ x 15.5″, 8/16 Lug
White coated head (Top/Bottom)
---
HI-HAT STAND
Vintage flat-base stand and original pedal
---
SNARE STAND
Vintage flat-base stand
---
KICK PEDAL
Vintage flat-base stand
Specifications and features are subject to change without notice.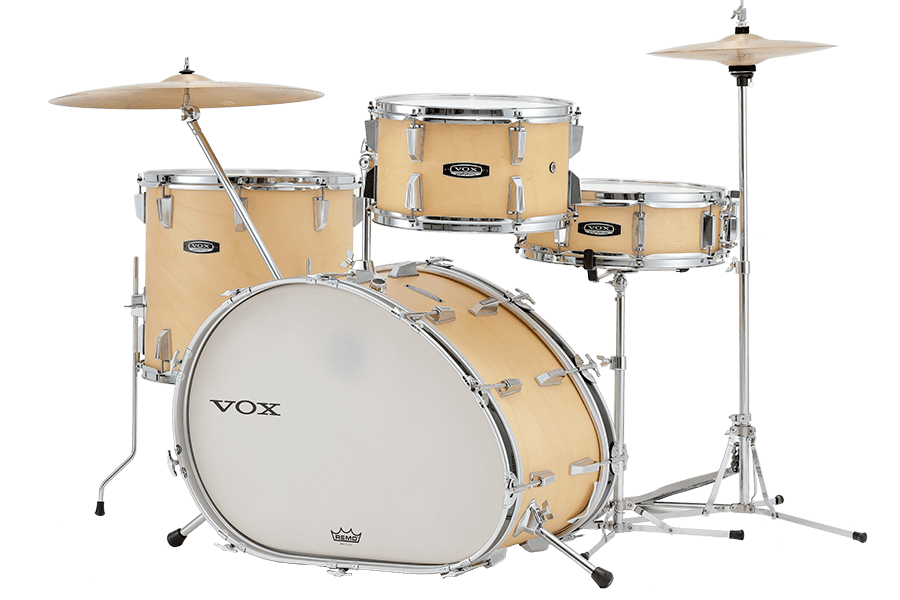 Videos
Play Video
Iconic looks, maple sound quality- Introducing the VOX Telstar Maple
Play Video
VOX Bobcat PV Song1