20 Watts
1 x 8" VOX speaker
12AX7 multi-stage pre-amp circuit
Product Description
The VT20X features a brand new modeling engine and sounds even better than ever! By using VET (Virtual Element Technology), which is based on an analysis of the components and amp circuits themselves, VTX amplifiers produce the most accurate and realistic amplifier sounds to date. These new amplifiers also feature a multi-stage Valvetronix tube preamp. This preamp design incorporates authentic analog circuitry to achieve the subtle tonal adjustments and capture the nuances that are distinctive of vacuum tube amps. In addition to this clever circuitry, VTX amplifiers feature a tightly sealed cabinet and a proprietary bass-reflex designed to deliver stunning resonance. Go beyond the realm of previous modeling amps with the new VOX Tone Room editing software that lets you customize the existing amps and effects yourself, or create your own!
VTX amps are equipped with a USB port for simple integration with a PC, Mac, or even iOS & Android platforms and works seamlessly with the new VOX Tone Room software for deep editing of your favorite amp models, effects and presets! Tone Room is available to download on your PC, Mac via the Support tab of this page and is also available for your iOS and Android devices via the App Store or Google Play!
Specifications
---
Power Amplifier Output:
VT20X: Maximum approx. 20W RMS @5 ohms
Amp Models:
11/20 (when using Tone Room – Editor/Librarian software)
DELUXE CL、TWEED 4×10、VOX AC30、BOUTIQUE OD、VOX AC30TB、BRIT 800、BRIT OR MKII、DOUBLE REC、BOUTIQUE CL、BRIT 1959、BOUTIQUE METAL
Effects:
Pedal 1 type: 4 (COMP, CHORUS, OVERDRIVE, DISTORTION)
Pedal 2 type: 4 (FLANGER, PHASER, TREMOLO, DELAY)
Reverb type: 4 (ROOM, SPRING, HALL, PLATE)
Noise Reduction: 1
Programs:
33/60 (when using Tone Room – Editor/Librarian software)
User Programs:
8 (2 banks x 4 channels)
Speaker:
VT20X: 8″ 5 ohms
Inputs / Outputs
INPUT jack, AUX IN jack, Headphone jack, FOOT SW jack, USB (Type B) mini port
Signal Processing
A/D conversion: 24-bit
D/A conversion: 24-bit
Power Supply
VT20X: AC adapter (DC 12 V)
Current Consumption
VT20X: 2.50 A
Dimensions (W x D x H):
VT20X: 410 x 225 x 347 / 16.14″ x 8.86″ x 13.66″
Weight
VT20X: 7.3 kg / 16.09 lbs.
Included Items
VT20X: AC adapter
Accessories (sold separately):
VOX VFS5 footswitch
*
Specifications and appearance are subject to change without notice for improvement.
Specifications and features are subject to change without notice.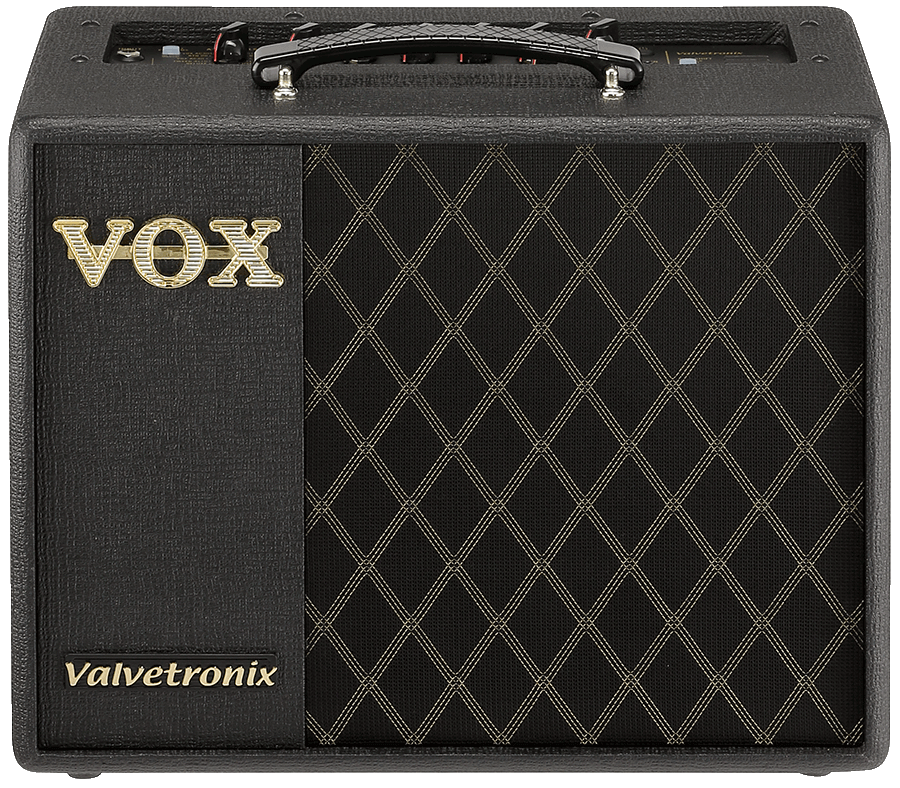 Videos