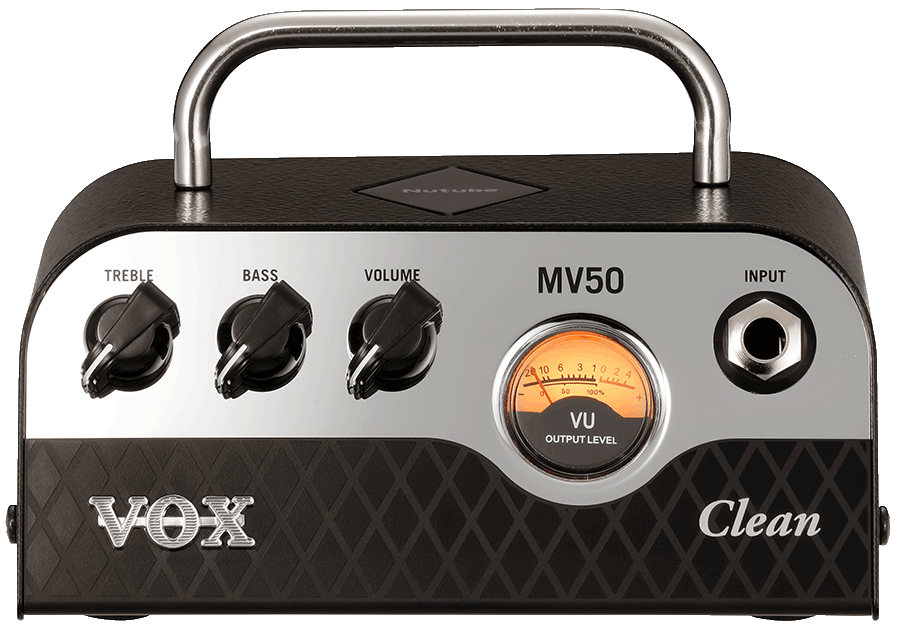 MV50
MV50 Clean
Sku: 1000
Product Description
Diseñado con un énfasis en lo analógico, VOX MV50 combina un diseño clásico de amplificador con innovadoras técnicas de producción para dar como resultado un amplificador en miniatura con un sonido realmente monstruoso. Con una increíble potencia de 50 vatios, este ampli de 500 gramos te dará un auténtico sonido de guitarra, que evoca el de tus amplificadores favoritos de válvulas del pasado. Con sus salidas de altavoz y línea/ auriculares, el MV50 es perfecto para escenario, tu casa o para grabación directa en el estudio.
El MV50 dispone de un circuito de preamplificador completamente analógico que incorpora Nutube, una nueva y revolucionaria válvula que produce el tono auténtico de válvula con un tamaño mucho más pequeño. Aprovechando esta increíble y nueva tecnología, los ingenieros de VOX han sido capaces de diseñar un auténtico amplificador a válvulas en miniatura. Además de la inclusión de Nutube, el circuito de preamplificador del MV50 cuenta con un asombroso número de componentes analógicos, que reproducen fielmente el carácter dinámico de un amplificador de válvulas tradicional. Complementando este innovador circuito de previo tenemos un amplificador de potencia de clase D, fiable y eficiente, que ha sido específicamente diseñado para el MV50. Desde sonidos cálidos, limpios y naturales hasta overdrives dinámicos, este amplificador ha sido diseñado para responder a los matices de tu guitarra y, por supuesto, de tu técnica interpretativa.
Aunque está diseñado con la compacta BC108 en mente, el MV50 es perfecto para casi cualquier caja acústica. El conmutador EQ en la parte posterior del amplificador dispone de dos configuraciones distintas, FLAT y DEEP. Cuando se conecta a una caja acústica pequeña, como BC108, ajustando el amplificador al modo DEEP aumentará la rica gama de graves, evitando que los agudos sean demasiado pronunciados. Cuando se conecta a una caja acústica más grande y convencional, ajustando el amplificador en el modo FLAT permitirá aprovechar al máximo las características de la caja acústica, sin enfatizar o reducir ningún rango de frecuencias.
Cuando llegue el momento de practicar o grabar, la salida de línea/auriculares de MV50 puede conectarse directamente a un mezclador, interfaz de audio o a tus auriculares favoritos. El equipo de diseño de VOX ha contado con ingenieros de grabación altamente experimentados, y utiliza sólo los mejores micrófonos y preamplificadores vintage para diseñar el circuito de simulación de caja acústica de MV50. Este circuito, hábilmente diseñado, te permite grabar o practicar con un auténtico sonido de estudio en cualquier lugar y en cualquier momento.
Especificaciones
---
Tomas de Entrada/Salida:
INPUT x 1, LINE/PHONES x 1, SPEAKER OUT x 1
Preamplificador:
Nutube 6P1
Potencia de Salida:
Máx. 50W RMS@4Ω, 25W RMS@8Ω, 12.5W RMS@16Ω
Alimentación eléctrica:
Adaptador AC DC19V
Consumo eléctrico:
3.43A
Dimensiones (W x D x H):
135mm x 100mm x 75mm/5.31" x 3.94" x 2.95"
Peso:
540g/1.19lbs.
Elementos Incluidos:
Adaptador AC
* Especificaciones y apariencia sujetas a cambios sin previo aviso.
* Todos los nombres de productos y empresa son marcas comerciales o marcas registradas de sus respectivos propietarios.
Specifications and features are subject to change without notice.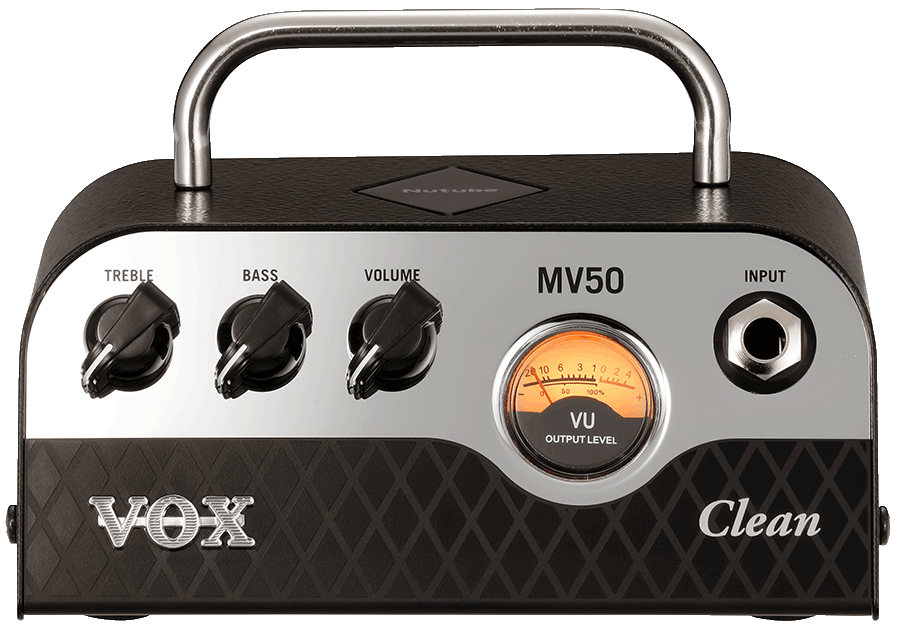 Videos