Product Description
Dos nuevos modelos se han añadido a la serie MV50: MV50 High Gain y MV50 Boutique. Equipados con la nueva generación de válvula Nutube, y con un diseño increíblemente ligero de sólo 540 gramos (1,1 libras), estos cabezales ofrecen una alta potencia de salida de 50W. Como su nombre indica, el sonido del MV50 High Gain está optimizado para una alta ganancia, mientras que el MV50 Boutique destila el sonido de un legendario amplificador boutique muy codiciado por los guitarristas. Con estas adiciones, la serie MV50 amplia su oferta, y no hay signos de desaceleración.
MV50 High Gain, sonido potente y versátil de alta ganancia
¡Si quieres tener el sonido de alta ganancia que es indispensable para la música moderna, el MV50 High Gain es el amplificador para ti! Equipado con un conmutador MID CONTROL que aumenta o reduce la gama de frecuencias medias, este ampli te ofrece una gama sonora versátil, entregando sonidos vanguardistas con un aumento de agudos y graves que son perfectos para un riff o un grueso sonido solista.
Características Principales
¡Solo 540 g (1,1 libras.)! Un cabezal amplificador ultra compacto que puedes llevar fácilmente con una mano.
A pesar de su tamaño compacto, entrega unos monstruosos 50W de potencia.
El previo incorpora Nutube, la nueva válvula que utiliza la tecnología fluorescente de vacío.
Circuitos analógicos basados en una filosofía de diseño puro.
El conmutador EQ proporciona un sonido que se adapta a la perfección al tamaño de la caja acústica que se utiliza.
Salida de línea/auriculares que emula el sonido del altavoz y pone a tu disposición los conocimientos de un ingeniero de grabación.
Diseño retro y elegante con frontal pulido a espejo y VU-metro.
Un excelente complemento para las cajas acústicas BC108 o BC112 de la serie VOX Black Cabinet.
El sonido de válvula impulsado por Nutube a pleno rendimiento
Impulsada por Nutube, la serie MV50 ha logrado un diseño sorprendentemente ligero y está actualmente disponible en tres modelos con diferentes matices sonoros: AC, Clean y Rock. Cada modelo es capaz de ofrecer un sonido increíblemente potente que no te esperarías de su aspecto o tamaño, y estas unidades han asombrado a guitarristas de todo el mundo. Ahora, se han añadido dos nuevos modelos a esta serie: High Gain y Boutique. El grueso sonido drive que es distintivo de las válvulas, y es característico de Nutube, está a pleno rendimiento. También se ha prestado cuidadosa atención a la circuitería analógica, replicando perfectamente incluso la compleja interacción entre los componentes de un amplificador de válvula. La respuesta rápida y una dinámica arrolladora son también las principales características de la serie MV50.
Especificaciones
---
Tomas de Entrada/Salida:
INPUT x 1, LINE/PHONES x 1, SPEAKER OUT x 1
Preamplificador:
Nutube 6P1
Potencia de Salida:
Máx. 50W RMS@4 ohmios, 25W RMS@8 ohmios, 12.5W RMS@16 ohmios
Alimentación eléctrica:
Adaptador DC19V
Consumo eléctrico: 3.43A
Dimensiones
(W x D x H): 135 mm x 75 mm x 100 mm/5.31" x 3.94" x 2.95"
Peso:
540g/1.19 lbs.
Elementos Incluidos:
Adaptador AC, cable de alimentación
* Todos los nombres de productos, empresa y estándar son marcas comerciales o marcas registradas de sus respectivos propietarios.
* Apariencia y especificaciones de los productos están sujetas a cambios sin previo aviso.
Specifications and features are subject to change without notice.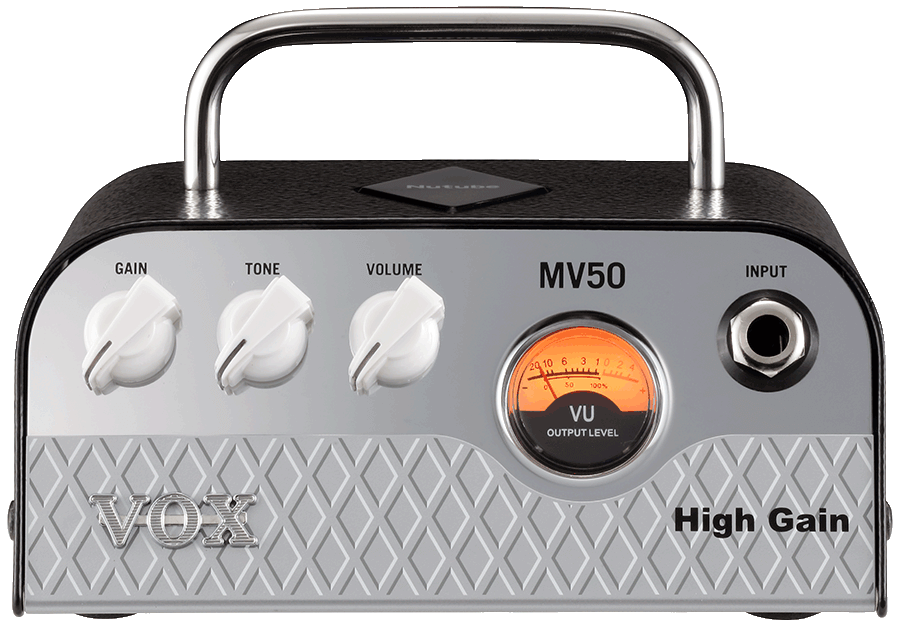 Videos