Your all-in-one ukulele amplifier
XLR mic input for singer-songwriters
Chorus and reverb effects for extra dimension
Product Description
One-of-a-kind portable amp powered by Nutube, made specifically for ukuleles!
The VOX Ukulele 50 is a dedicated lightweight amp with a 50 W output, voiced to match the tonal range of the ukulele and designed to meet the needs of ukulele players. These days, the only options available for ukuleles with built-in pickups is to connect them to a PA mixing console or to an amp made for acoustic guitars. The VOX Ukulele 50 offers an important solution for players who are looking to effectively amplify their ukulele's sound. With a next-generation Nutube vacuum tube, this amp brings a rich sonic depth for outputting the ideal ukulele sound.
Features an XLR input and line-level output
This unit includes an XLR-type MIC input connector, useful for ukulele players who sing while they play. In addition to its uses onstage for live performance, the headphone and line out jacks make the VOX Ukulele 50 a perfect choice for practicing or recording at home.
Built-in chorus and reverb
The VOX Ukulele 50 lets you create a wide range of sounds. With chorus and reverb effects and the ukulele-voiced EQ, this amp offers a wide palette of tonal options.
Especificaciones
---
SPECIFICATIONS
Input/output jacks:
INSTRUMENT jack: 6.3 mm phone jack (with unbalanced/PHASE switch)
MIC connector (XLR jack: balanced, supplies phantom power)
AUX IN jack (stereo mini-phone jack)
LINE OUT jack (6.3 mm phone jack, unbalanced)
PHONES jack (stereo mini-phone jack)
---
Vacuum tube: Nutube 6P1
---
Effects:
INSTRUMENT channel: Chorus, reverb, chorus + reverb
MIC channel: Reverb
Equalizer:
– INSTRUMENT channel
BASS: ±10 dB @100 Hz
MIDDLE: ±12 dB @700 Hz
TREBLE: ±10 dB @10 kHz
– MIC channel
BASS: ±10 dB @170 Hz
TREBLE: ±10 dB @7 kHz
---
Power amp output: approx. 50 W RMS maximum
---
Speaker: VOX Original 8″ speaker with tweeter (2-way coaxial)
---
Power: AC adapter (19 V DC)
Power consumption: 3.42 A
---
Dimensions: 354 (W) × 208 (D) × 313 (H) mm/13.94 × 8.19 × 12.32″
Weight: 4.2 kg/9.25 lb
---
Included items: AC adapter, power cord
Specifications and features are subject to change without notice.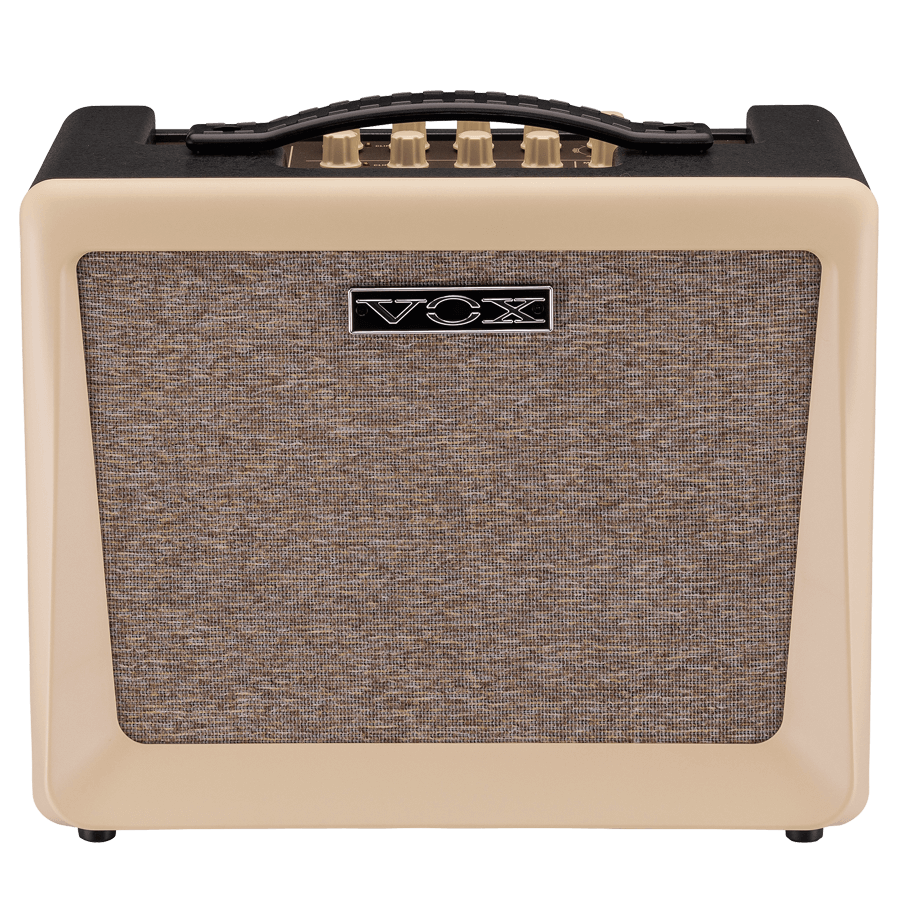 Videos