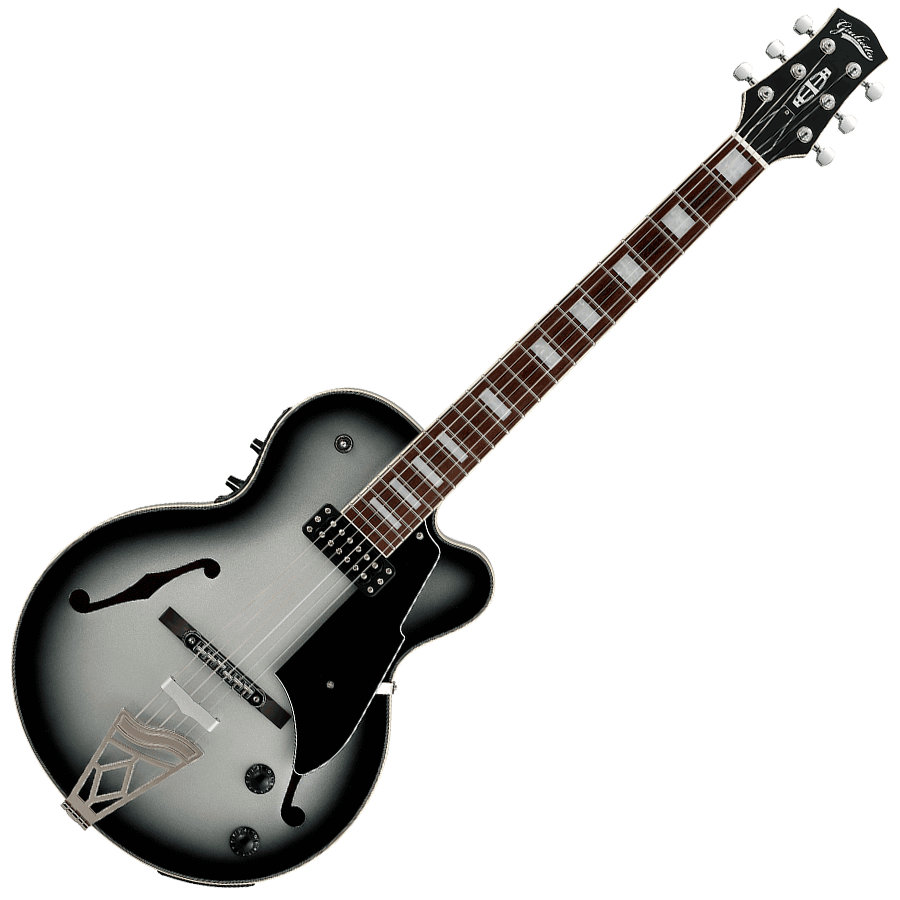 Giulietta
VOX Giulietta VGA-5TD Archtop Electric Guitar
Compact Size With Big Sounding Tone
AREOS-D Control Module
Real-Time Control Over Sound-Shaping Parameters During Play
Product Description
The VOX Giulietta VGA-5TD Archtop Electric Guitar is a cutting-edge musical instrument designed for modern guitarists, fusing state-of-the-art digital sound modeling with a classic aesthetic.
The VGA-5TD offers an even more compact and thinner body along with high-class ornamentation compared to its predecessor, the VGA-3D.
VOX's advanced modeling technology brings you the diversity and advanced performance functionality needed for recording and live performance. Owing to our refined electronic technology, the VOX Giulietta VGA-5TD Archtop Electric Guitar gives you access to a world of sounds that go beyond your expectations.
The AREOS-D digital modeling system built into the Giulietta VGA-5TD gives you access to a wide range of parameters. It features both magnetic and piezo pickups, a powerful DSP engine, two potentiometer dials and a selector switch for access to the 18 modeled sounds. These features combine to deliver you an impressive level of sound quality.
The modeling system gives you instant control over sounds in a broad array of genres beyond  electric and acoustic guitars, such as synthesizer sounds. This instrument is sure to become a powerful new tool for creative musicians to wield in live performances and recording situations.
The Tune-O-Matic-style bridge that's built into the piezo pickups adds brightness, offering clean yet rich harmonics to the acoustic sound. Further, the VOX XLM humbucking pickup outputs an authentic electric guitar sound that's responsive to your playing dynamics. This mighty combination brings a diverse range of sounds within easy reach.
The product designers and engineers at VOX also worked hard to deal with over-ringing, an issue that frequently occurs on archtop guitars with piezo pickups, and which occurs when the piezo pickup on the bridge picks up not only the desired sound but also the resonance of the strings between the bridge and the tailpiece (on the opposite side). To prevent over-ringing and to achieve a pure and clean sound on the VOX Giulietta VGA-5TD, we have developed a removable string mute (included with the guitar).
Compact size with a big-sounding tone
While full-sized archtop guitars possess undeniable visual appeal, their considerable size can be somewhat cumbersome for many players. Moreover, these instruments tend to be more susceptible to feedback issues when played at stage volumes. VOX instruments strike a delicate balance between the compact single cutaway body size and a full-scale neck, crafting a contemporary instrument that accommodates players of all styles, ensuring a comfortable and satisfying playing experience.
AREOS-D Control Module
The AREOS-D features a user interface that makes it both easy and flexible to use all of the controls on the Control Module. This Control Module is designed to let you use the Giulietta VGA-5TD to seamlessly create music, without any complicated submenus.
Electric guitar model and drive control  
For the AREOS-D control system on the Giulietta VGA-5TD, we've added overdrive to the electric guitar model. This lets you easily and quickly change the effect level, or turn the effects on/off.
Synths
During the development phase of the AREOS-D Modeling Module, the overwhelming consensus among players was the need for synth models that allow for real-time control over sound-shaping parameters during play. By harnessing sophisticated DSP logic and meticulously adjusting data derived from the strings, we succeeded in generating synth sounds that are more seamlessly playable than on the majority of guitar synths. This reduced the likelihood of glitches or erroneous notes, thus enhancing the overall user experience.
Special instruments
Versatility was at the top of our list of most-wanted characteristics when we developed the Giulietta VGA-5TD. With this instrument, there's no need for you to lug along a banjo, sitar, resonator guitar or other special instrument that you might only use for a limited time.
Specifications
Onboard System
AREOS-D System
---
Body
Body: Laminated arched maple top and back. Laminated maple sides.
Binding: Body top, back, headstock and fingerboard
---
Neck
Neck: Set Mahogany, tilt headstock
Fingerboard: Baked Jatoba (stabilized through special drying process)
Position markers: Pearloid dot
Fingerboard Radius: 310 mm
Neck shape: "C" Shape
Scale Length: 24 3/4"  (628 mm)
Number of Frets: 22
Fret Size: Medium jumbo
Nut Width: 42 mm (1.65in.)
---
Pickups
Individual Piezo Pickups in Bridge Saddles. 1 X XLM Humbucking
---
Hardware
Bridge: Tune-O-Matic style, chrome plated with 6 in-saddle piezo elements
Tailpiece: Chrome-plated trapeze style with VOX String Mute
Machine head: Gotoh SD381
String gauges: 011, 014, 018, 028, 038, 049
---
Controls
Master Volume
Master Tone
Selector Toggle Switch
Group selector, DRIVE/REVERB knob, POWER button and LED, FX (effect) /CANCEL button and LED, WRITE button and LED
---
Outputs
Guitar output jack (1/4″ phone type)
Headphone jack  (1/8″ phone type)
---
Color Options
Natural Gunmetallic (NAGM)
Pearl Orange (PO)
Faded Silver (FS)
---
Power
Power: Alkaline battery (AA, LR6) x 4, or Rechargeable Ni-MH battery (AA, HR6) x 4
Expected Battery Life under Continuous Use: Alkaline battery: 11 hours, Rechargeable Ni-MH battery: 15 hours
* These figures will vary depending on the actual conditions of use.
---
Included:
Owner's Manual, Adjustment wrench, Gig bag, Alkaline battery (AA, LR6) x 4 (for checking the instrument purpose only)
---
Giulietta VGA-5TD Sound list
Group
Three-way switch
Effect
NECK
MIDDLE
BRIDGE
User
USER1
PROGRAM1
PROGRAM2
PROGRAM3
(*1)
Electric type
SINGLE
NECK
MIDDLE
BRIDGE
DRIVE
'BUCKER
NECK
MIDDLE
BRIDGE
Acoustic type,
other
ACOUS1
LARGE1
LARGE2
ACO 12STRINGS
REVERB
ACOUS2
NYLON
SMALL1
SMALL2
UNIQUE
BANJO
SITAR (*2)
RESONATOR
SPECIAL
SYNTH (*3)
SUSTAIN (*4)
ELE 12STRINGS
*1: The user bank effects vary depending on the sound you choose.
*2: The volume of the sitar resonance can be changed with the tone knob.
*3: The synth sounds are primarily designed as monophonic sounds.
*4: The sustain sounds play along with the string vibration attack. When you play in a muted style to emphasize the attack, the sustain sounds stop.
* All product, company, and standard names are trademarks or registered trademarks of their respective holders.
Specifications and features are subject to change without notice.