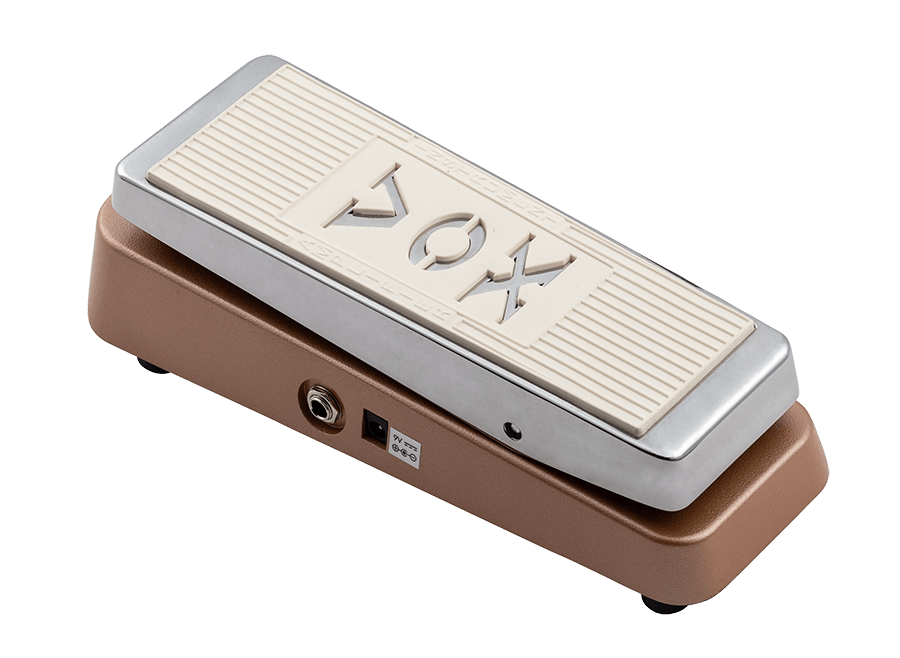 Wah Pedals
V847-C Wah Pedal
Product Description
The new V847-C, an evolution of the legendary VOX wah sound
Based on the specs of the original VOX wah from the 1960s, the V847 has faithfully transmitted the legendary sound to the present day. Through careful experimentation, the traditional VOX wah has evolved into the V847-C wah pedal, with a tone that enhances today's rock music. It delivers a wah sound with great presence that will stand out when playing anything from chords to solos.
While carrying on the tradition of VOX wah pedals, the V847-C wah pedal's numerous customizations make it the perfect modern VOX wah.
Delivers a powerful sound with an improved frequency sweep
The frequency range of the wah (frequencies in which the wah can be varied) has been set lower, with the gain boosted and the Q-value (the sharpness of the wah's peak) adjusted to deliver a powerful sound with a low center of gravity.
Warmer tone
The input impedance has been adjusted to make the sound not merely more powerful but also tastefully warm.
True bypass
The true bypass design means that the signal does not pass through the circuit when the unit is switched off, ensuring that its tonal character is unaffected.
Improved rubber feet for a better feel when switching on/off
The V847-C uses a softer material than the rubber feet on previous models. You'll be able to turn the wah effect on/off more smoothly while you play your guitar.
Made In Japan model
A true "Made In Japan" product manufactured in Japan.
Front and bottom plates feature illustrations featuring traditional Japanese artwork.
Specifications
Input Impedance
210 kOhm
---
Inputs
1 x 1/4″ Input Jack, 1 x AC Power Supply Jack
---
Outputs:
1 x 1/4″ Output Jack (to amplifier)
---
Power Supply:
1 x 9V DC Battery or AC adapter (optional and sold separately)
---
Dimensions (w x d x h)
102 x 253 x 80 mm / 4.02 x 9.96 x 3.15 inches
---
Weight:
1.3 kg / 2.87 lbs (excluding battery)
Specifications and features are subject to change without notice.