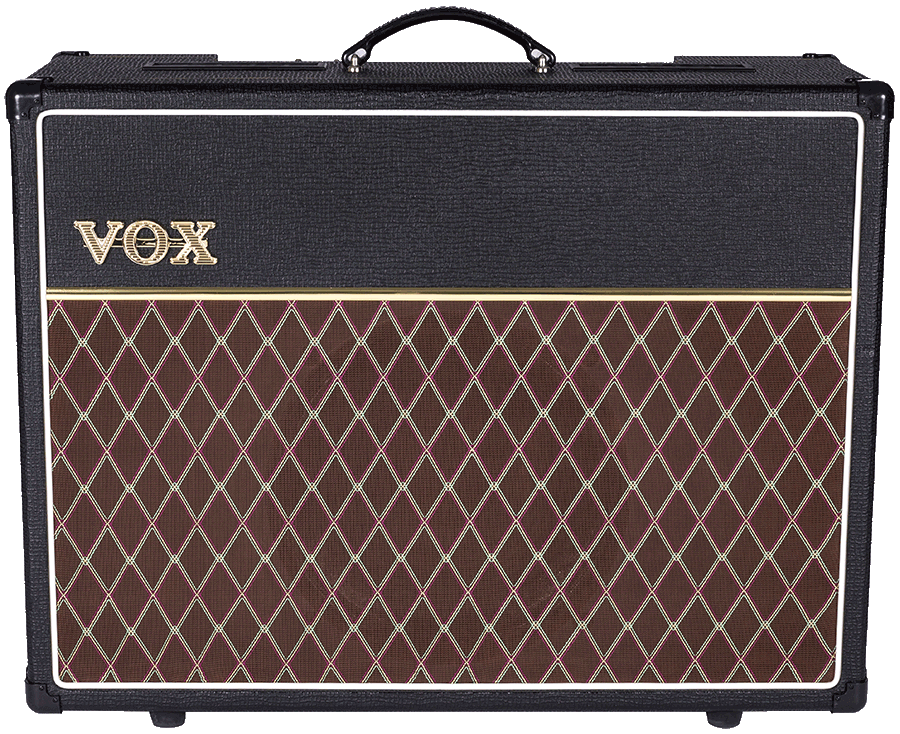 Custom
AC30 OneTwelve
Sku: AC30S1
Diseno monocanal
Celestion 12" speaker
todo el diseno del tubo
Product Description
Canal único. Altavoz único. Objetivo único.
El VOX AC30 ha sido un componente integral del rock&roll desde los años 60. Su sonido único y sin igual sigue sorprendiendo e inspirando a los intérpretes de hoy. El AC30S1 ofrece la experiencia completa del clásico AC30, pero de una forma más sencilla y directa. Su diseño de canal único se basa en el venerado canal Top Boost del AC30, un sonido que ha sido la fuente de algunos de los más famosos riffs en la historia del rock. Este circuito único y sensible al toque ofrece una amplia gama de tonos desde limpios a un rico overdrive. El AC30S1 también cuenta con una reverb digital con calidad de estudio, un envío/retorno de efectos para integrar tus pedales favoritos y una salida de altavoz externo para usar otras cajas acústicas. Este nuevo AC30 representa la evolución de un sonido icónico, ofreciendo el legendario sonido VOX con un diseño de amplificador sencillo y moderno.
Características principales
Diseño de canal único inspirado por el patentado Top Boost del AC30
Diseño totalmente a válvulas que incorpora dos válvulas de previo 12AX7 y cuatro válvulas de potencia EL84
Equipado con un altavoz Celestion de 12 pulgadas, especialmente diseñado para el AC30S1
Envío/retorno de efectos y salida para altavoz externo para conexión con pedales o caja acústica externa
Equipado con reverb digital que simula una reverberación clásica de resorte
Hereda en canal Top Boost del legendario AC30
El sonido del canal Top Boost ha sido fuente de inspiración para innumerables guitarristas desde los años 60, y sigue emanando una imponente presencia en escenarios y grabaciones actuales. El AC30S1 se centra en el sonido único del canal Top Boost que se considera que es el sonido esencial del AC30. Utiliza un diseño completamente a válvulas, con dos válvulas 12AX7 en el previo y cuatro válvulas EL84 en la etapa de potencia, para entregar cada matiz sonoro del canal Top Boost, desde sonidos limpios y cristalinos hasta gruesos overdrive.
Ampliable para responder a las necesidades de hoy
El AC30S1 proporciona la capacidad de ampliación necesaria para los variados estilos interpretativos de los guitarristas de hoy. Los conectores de envío y retorno permiten una cómoda conexión de efectos externos, y también se proporciona una salida para altavoz externo para conectar una caja acústica externa. La unidad también dispone de una reverb incorporada que simula una unidad de reverberación de resorte, ampliando aún más su gama tímbrica.
El AC30S1 es el ampli para todos en cualquier lugar
Desde que se presentó por primera vez en los años 60 hasta la actualidad, han existido una variedad de modelos AC30, incluyendo el famoso modelo con seis entradas, modelos con diferentes opciones de altavoces y unidades cableadas a mano, entre otros. De estos numerosos modelos AC30, el AC30S1 es la forma más sencilla de experimentar el sonido completo del AC30. También es más ligero y compacto que los anteriores AC30, por lo que es muy fácil de transportar. Con el AC30S1, puedes disfrutar del legendario sonido VOX en cualquier momento y en cualquier lugar.
Especificaciones
---
potencia de salida
30 Watts RMS
16 Ohms
---
altavoz
1 x 12″ Celestion VX12
---
entradas
1 x Normal Input Jack
1 x FX Loop Return Jack
---
salidas
1 x External Speaker Jack
1 x FX Loop Send Jack
---
controls
Volume, Gain, Bass, Treble, Reverb
---
cumplido de tubo
2 x 12AX7
4 x EL84
---
dimensiones (W x D x H)
658 x 265 x 550 mm | 25.91 x 10.43 x 21.65 inches
24.5 kg | 54.01 lbs
Specifications and features are subject to change without notice.