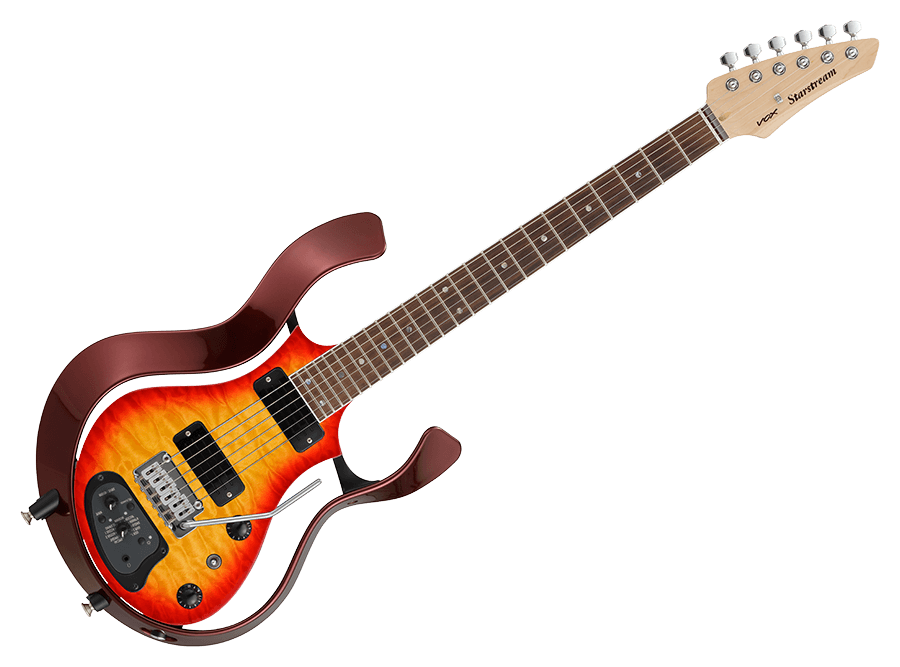 Starstream
Starstream Type 1 Plus Mahogany
Sku: 1000
Product Description
MODELING ELECTRIC GUITARS
VOX introduces the Type 1 Plus Mahogany to the Starstream lineup. This new variation features reimagined electric guitar models using the AREOS-D modeling system, providing an even more expressive performance experience. A new, true passive mode allows for standard electric guitar performance, without the need for battery power.
Created to provide a wide range of sounds including electric guitar, acoustic guitar, synths and other stringed instruments, the VOX Starstream Type 1 Plus Mahogany is the ultimate product for players looking to expand on what the electric guitar is and what it can do. Whether you are playing with a band, in the studio or practicing silently at night with headphones, the Starstream Type 1 Plus Mahogany offers exciting new possibilities.
Incorporating the AREOS-D system, the Starstream Type 1 Plus Mahogany is the latest expression of VOX's long-standing tradition of breaking through the boundaries of onboard guitar electronics, putting control over your sound at your fingertips. The system integrates several essential elements: magnetic pickups for authentic electric guitar models; a piezo pickup system for rich-sounding traditional instruments; a powerful DSP engine; familiar volume, tone and pickup selector controls and a Control Module that provides instant access to important parameters. Whether you are looking for the flexibility of 27 instrument models instantly at your command or desire the convenience of tailoring models to sound amazing through headphones, the Starstream Type 1 Plus Mahogany offers an unmatched sonic experience.
Advanced ergonomic considerations led to the unique frame construction. While traditional electric guitar designs are rooted in the 1950s, the Starstream Type 1 Plus Mahogany follows a new path. Its shape and form echo the forward thinking offered by its electronics. The frame is three dimensionally contoured for maximum comfort, easily conforming to your personal style. Equipped with a smoothly shaped neck, unlimited upper fret access, warm-toned resonant wood body, specially voiced magnetic pickups and a balanced, easy to use tremolo system; this is the ultimate modern guitar.
Quick Overview
Exclusively developed AREOS-D system uses the guitar's magnetic pickups to create the electric guitar models for greater realism and accuracy. This sophisticated approach results in a highly accurate and articulate representation of the modeled instrument. We've updated the electric models in the Starstream VSS-1 Plus Mahogany for even greater expression.
New Passive Mode for standard electric guitar performance. Battery power is not necessary in this mode. Volume, Tone and Pickup Selector controls function normally in this mode.
Nine banks of instruments with three variations in each plus two user banks to store up to six favorites.
Five banks with classic and modern electric single coil and humbucking sounds, updated to take advantage of the resonant Mahogany body wood, plus three variations of electric 12-string.
 Two acoustic banks featuring six different guitars including small body, large body, 12-string and nylon string instruments.
Banjo, sitar and resonator models make up the Unique bank.
The Special bank holds two synthesizer variations, Synth and Bass Synth and a Sustain mode that produces a distinctive organ-like effect (depth of the Sustain mode's vibrato effect is controlled by the Tone control). For Synth, you can control both Decay and Attack parameters at once using the Tone knob. Using the Tone control, both Envelope and Resonance parameters are adjusted simultaneously for Bass Synth.
Onboard Drive and Reverb (model dependent) control for real-time adjustments to amount of gain or reverb depth. Depending on the model selected, either Drive or Reverb can be stored in a user bank, set to on or off.
FX pushbutton with an LED for instantaneous on/off switching of Reverb or Drive effect, depending on model selected.
Synth sounds track effortlessly and respond dynamically to touch, pick attack and vibrato.
Simple, intuitive volume, tone and three-way model variation selector controls make changes quick and easy.
1/4″ output for live performance or recording and 1/8″ output for use with headphones for private listening and practice.
22 fret bolt-on hard maple neck with Blackwood Tek Sustainable Wood Composite fingerboard with 12″ radius.
Sculpted mahogany body;2 x XLM humbucking pickups; 2-point fulcrum vibrato; Sealed diecast tuning machines.
Starstream Type 1 Plus Mahogany is available in three color options
Three-dimensional Frame Technology
The innovative three-dimensional molded frame creates an ultra-modern look for the Starstream Type 1 Plus Mahogany, and conforms to your body in a way that no wooden guitar shape can. Extremely comfortable to hold for long periods of time, whether on the strap or sitting, the Starstream Type 1 Plus Mahogany reduces fatigue while supporting the right hand for improved picking accuracy.
Mahogany Body Wood and Hard Maple Neck
Mahogany is a classic guitar wood with a deep, resonant tone highlighted by rich, smooth sustain that enhances the depth and realism of the updated guitar models. Combined with a hard maple neck and a Blackwood Tek Sustainable Wood Composite fingerboard, it provides crisp attack with a balance of sparkling harmonics, rich fundamental sound and even tone that brings each modeled voice to life.
AREOS-D Control Module
Many hours of testing, revising and reconfiguring the placement and purpose of all controls on the Control Module ensure that you will have the clearest, easiest and most flexible functions at your command. There are no confusing complicated submenus – everything you need to have a seamless (and most importantly, musically creative) experience with the Starstream Type 1 Plus Mahogany has been developed to be convenient for every player.
Passive Mode
A new Passive Mode is easily selected for standard electric guitar performance. Volume, Tone and Pickup Selector controls work normally without the necessity for battery power in this mode.
Electric Guitar Models and Drive Control
Aside from providing convincingly realistic electric and acoustic guitar sounds, the Starstream Type 1 Plus Mahogany adds control of overdrive to electric models in a way that is user-friendly and modifiable in real time. The AREOS-D control system was specifically designed to allow you to easily and quickly change the amount of effect on a given model, turn that effect on or off and change an electric sound from clean to crunchy to full-out distorted while playing, without stopping to reset a parameter or needing to hook the guitar up to a computer and use software to modify the model before using it.
Synths
Research during the development of the Starstream Type 1 Plus Mahogany showed that players nearly unanimously requested the instrument include classic synth models that track and provide user control over sound-shaping parameters during performance. Most attempts to get pitch-to-MIDI synth patches for guitar to track cleanly have been disappointing. Using highly developed DSP logic and fine tuning information from the string resulted in synth sounds that can be played more comfortably than on most guitar synths with less fear of glitches or missed notes.
Special Instruments
Versatility was at the top of the list of necessary major attributes when developing the Starstream Type 1 Plus Mahogany. If you want to double on other stringed instruments like banjo, sitar and resonator guitar, you will no longer have to carry additional gear that will only be used briefly.
Magnetic Pickups: The Source of the Electric Sounds
Updated electric models are built using the sound of the magnetic pickups and their position
information. Specially developed DSP, further enhances the realism and character of each model. Models built this way feel and sound more natural and exhibit the dynamic response you expect from analog electric guitars.
The Result
The Starstream Type 1 Plus Mahogany is an exceptionally versatile instrument, ready to be explored by the modern guitarist. If your goal is to have the flexibility to include a wide variety of instruments to suit your music, your mood or simply to explore new sounds, we've put everything you'll need right in this guitar.
Starstream Type 1 Plus Mahogany Available Models
Starstream Type 1 Plus Mahogany is available with three color options.
Starstream Type 1 Plus Mahogany Black (VSS-1P-BK-MH/Black Frame with Black body)
Starstream Type 1 Plus Mahogany Red (VSS-1P-RD-MH/Red Frame with Red body)
Starstream Type 1 Plus Mahogany White (VSS-1P-WH-MH/White Frame with White body)
Starstream Type 1 Plus Mahogany Sound list
Group

Three-way switch

Effect

NECK

MIDDLE

BRIDGE

User

USER1

PROGRAM1

PROGRAM2

PROGRAM3

(*1)

USER2

PROGRAM4

PROGRAM5

PROGRAM6

Electric type

SINGLE

NECK

MIDDLE

BRIDGE

DRIVE

B'TWEEN

VARIATION1

VARIATION2

VARIATION3

'BUCKER

NECK

MIDDLE

BRIDGE

MODERN

NECK (SINGLE)

BRIDGE (SINGLE)

BRIDGE ('BUCKER)

12STRING

DOWN12STRING

ELE 12STRING1

ELE 12STRING2

Acoustic type,
other

ACOUS1

LARGE1

LARGE2

ACO 12STRING

REVERB

ACOUS2

NYLON

SMALL1

SMALL2

UNIQUE

BANJO

SITAR (*2)

RESONATOR

SPECIAL

SYNTH (*3)

BASS SYNTH (*3)

SUSTAIN (*4)
*1 The effects for user programs will differ depending on the sound.
*2 For the SITAR, use the TONE knob to adjust the level of the sympathetic strings.
*3 For the SYNTH and BASS SYNTH, unintended sounds may occur if you play chords. In general, you should play only single notes.
*4 For the SUSTAIN, the notes you play are sustained, producing an organ-like sound. To stop the sustain, either play staccato or mute the string.
Specifications
---
Body
Mahogany
---
Neck
Maple
"C" Shape
638mm (25 1/8″) Scale Length
22 x Medium Jumbo Frets
Blackwood Tek Fingerboard (sustainable wood composite)
310mm (12″) Fingerboard Radius
43mm (1.692″) Nut
---
Bridge:
2 Post Tremolo
---
Pickups
2 x VOX XLM
Piezo Pickup in each Saddle
---
Onboard PreAmp
AREOS-D Modeling System, incorporating the Control Module, Magnetic Pickups, Piezo Pickup, Volume, Tone and Pickup Selector Switch
---
Controls
3 x Position Model Switch, Group Selector, Volume, Tone, Drive/Reverb Knob, Power Button, FX/Cancel Button, Write Button
---
Number of Sounds
27 (9 banks x 3)
---
User Programs
6 (2 banks x 3)
---
Outputs
1 x Normal Guitar Jack
1 x Headphone Jack
---
Power Requirements
4 x AA Alkaline batteries
or
4 x AA Rechargeable Ni-MH batteries
---
Expected Battery Life (under Continuous Use)
11 x Hours (Alkaline)
15 x Hours (Rechargeable Ni-MH)
* These figures will vary depending on the actual conditions of use.
---
Accessories (included)
1 x Tremolo Arm
1 x Adjustment wrench
4 x AA Alkaline Batteries (for checking the instrument purpose only)
1 x Gig bag
Les spécifications et caractéristiques sont susceptibles d'être modifiées sans préavis.