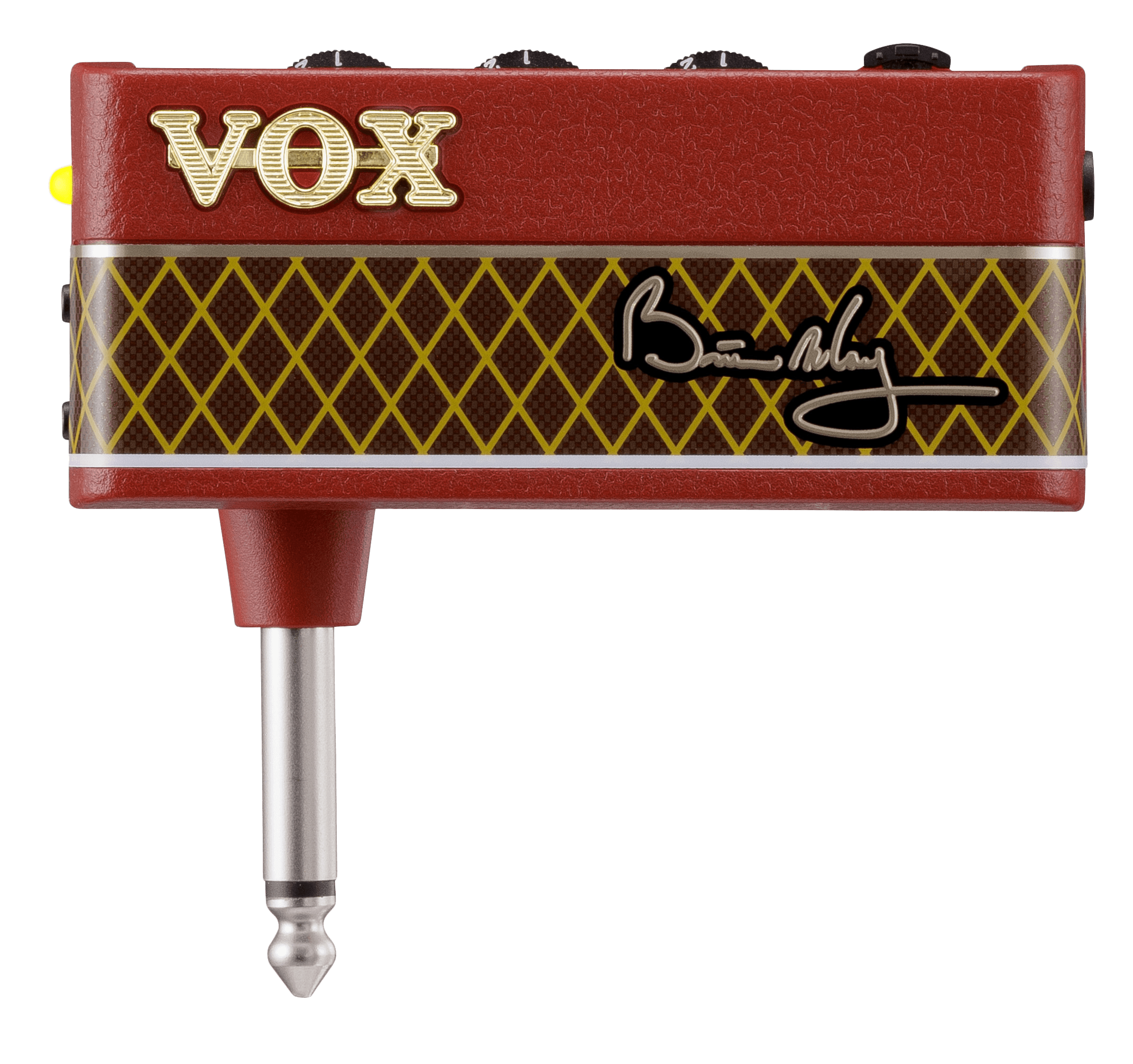 Brian May Signature Series
amPlug Brian May
Sku: APBM
Designed and voiced with Sir Brian May
Modeled on VOX AC30 sound with treble booster
Built-in delay, phaser, and chorus effects
Rhythm machine including the "We Will Rock You" pattern
Product Description
"I want people to be able to get the sounds you make in a stadium show into your living room, and this achieves that. I hope that people find them inspiring." – Brian May.
---
One of Rock history's most iconic guitar tones is now available to all, in the form of a headphone guitar amp designed and developed in collaboration between Vox and Brian May. With the amPlug Brian May guitar headphone amplifier, you can get the legendary guitarist's classic tone anytime, anywhere – through any set of standard headphones.
Developed by Vox in collaboration with Brian May, the amPlug's AC30 + Treble Booster setting is quite literally "the Brian May tone in the palm of your hand". Designed to recreate the unique sound of Brian's Red Special and cranked AC30 signal chain (and not to forget the sixpence), our mission with this very special edition of the amPlug was to make Brian's instantly recognizable tone accessible to all.
But the amPlug Brian May goes further than delivering on tone. Featuring a range of backing rhythms, including the "We Will Rock You" stomps and claps, you can jam along to classic tracks in your headphones. A "Brighton Rock" stereo delay setting, with tap tempo, allows you to get lost in a wall of AC30s, channeling Brian May's call–and–response work on songs such as "Brighton Rock" and "Now I'm Here". The amPlug's phaser effect also allows you to recreate Brian's swirling live sound – transporting you onto the Wembley stage, circa 1985, from the comfort of your own home. A rich chorus completes the trio of on–board effects, designed carefully to make Brian May's iconic sounds available to all guitarists.
Using 2xAAA batteries, the amPlug Brian May has up to 15 hours of battery life, meaning you can play all night long.
---
Modeled on the classic Brian May Vox AC30 sound
Treble booster setting for instant Brian May tone
Three additional onboard effects (which can be used in conjunction with treble booster) – Stereo delay with tap tempo, phaser and chorus
Built–in rhythm patterns to jam along to, including the original studio audio sample of the iconic "We will Rock You" stomps and handclaps
Gain, tone and volume controls
Visual design based on Brian May's Red Special
Headphone output (3.5mm jack) and auxiliary output (CTIA–compliant 3.5 mm TRRS mini phone jack)
Foldable jack mechanism can be plugged into any guitar
Specifications
---
Input/output jacks:
Phones jack (3.5 mm stereo mini phone jack)
AUX jack (CTIA-compliant 3.5 mm TRRS mini phone jack)
---
Power supply:
Two AAA batteries or AAA nickel-metal hydride batteries
---
Battery life:
10 hours/16 hours (using alkaline batteries, when FX or RHYTHM is on/off);
3 hours/5 hours (using zinc-carbon batteries, when FX or RHYTHM is on/off)
---
Dimensions (W × D × H):
87 × 33 × 39 mm (3.43′′ × 1.3′′ × 1.54′′), with plug folded down
---
Weight:
40 g (1.41 oz.), not including batteries
---
Included items:
Two AAA batteries
---
Models:
APBM – Brian May Limited Edition amPlug
APBMSET – Brian May Limited Edition amPlug & Cabinet Set
Specifications and features are subject to change without notice.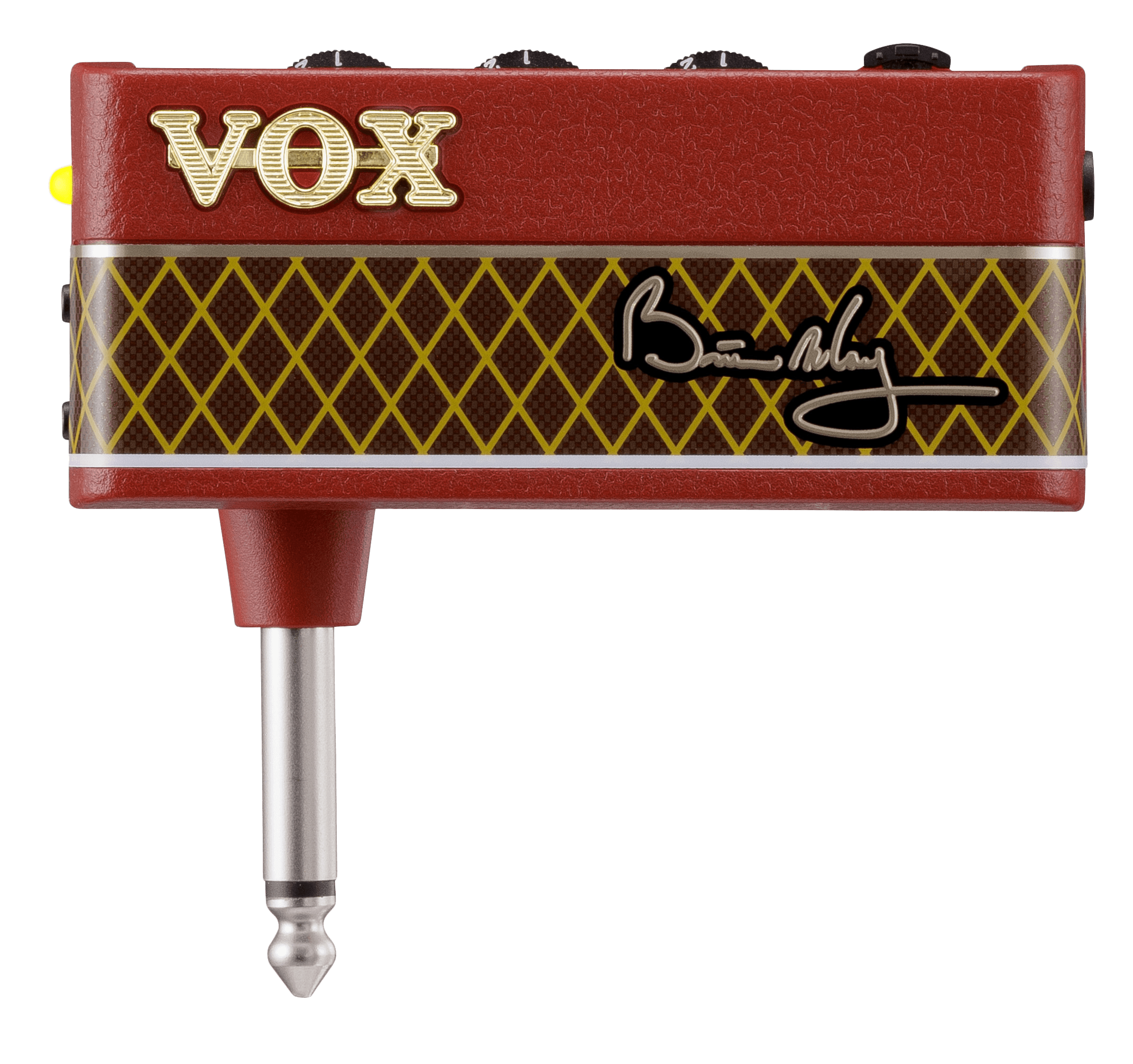 Videos